Jean-François Jégo, PhD
Artist-researcher, Associate Professor & Curator
Expert on virtual reality & augmented reality
Co-head of Arts & Technologies de l'Image Department / AIAC-INREV Research team, Digital Art & Virtual Reality Laboratory, University Paris 8, France
Co-Head of the Master "Digital Creation", Université Paris 8 & of the International French-Greek Master "Art, virtual reality & multi-user systems"
Co-founder of the VRAC VR Artistic Collective and the international Think-Tank GAIIA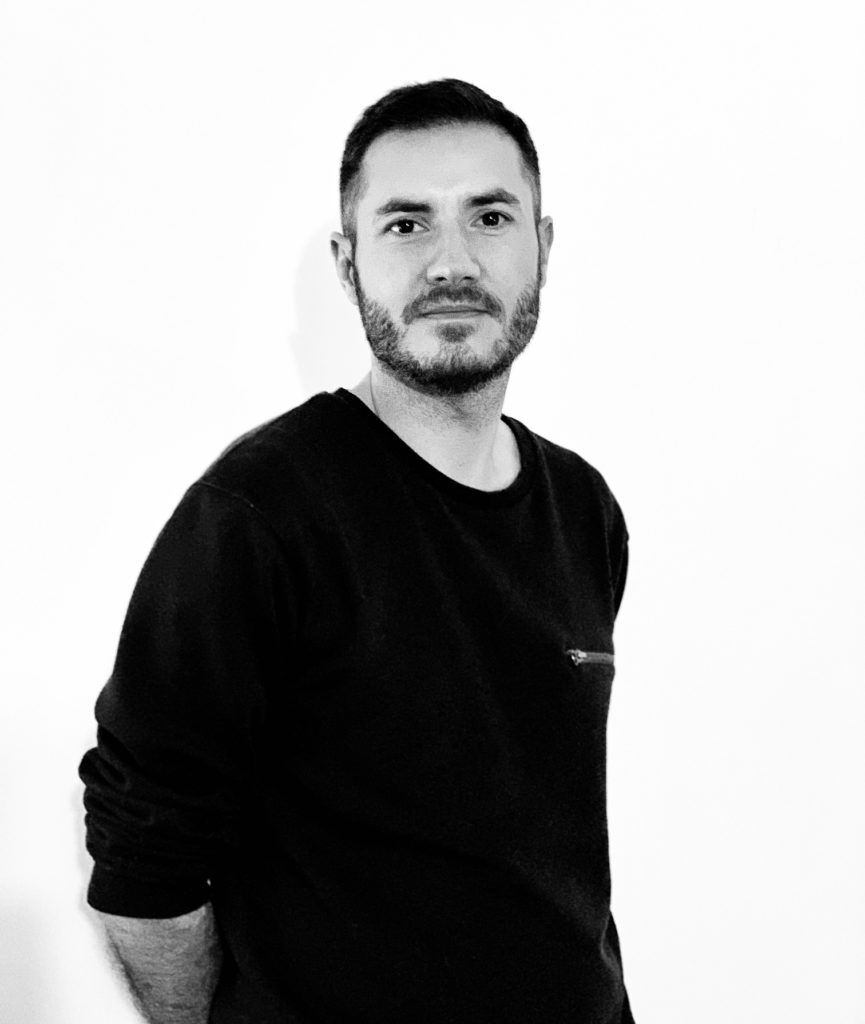 About
Jean-François Jégo, PhD
Jean-François Jégo is associate professor at the Arts & Technologies de l'Image department of the Faculty of Arts at the Université Paris 8 in France. He is also digital artist and researcher at the INREV Virtual Reality Laboratory where he creates immersive and interactive experiences, art installations and digital performances hybridizing Virtual and Augmented Reality. Following a transdisciplinary Master of Contemporary Arts, Jean-François obtained a PhD in computer science and virtual reality at the robotics center of Mines ParisTech in France. His research topics question human perception and the aesthetics of interaction, exploring embodied cognition and interaction, focusing on the expressivity of human and virtual gestures in digital art.
His digital art installations and performances have been exhibited internationally in France (Cent-Quatre, Gaité Lyrique, IRCAM Centre-Pompidou, Théâtre d'Aubervilliers, Stereolux…), Taiwan (MOCA of Taipei) and in many venues including Ars Electronica (Austria), Cyberfest (Russia), IEEE VR and ACM Multimedia conferences (USA). As a curator, in 2016 Jean-François presented the artworks of forty artists at the third international symposium on Movement and Computing MOCO'16 in Greece. He also co-organizes the Ars Electronica Campus Exhibition 2015 in Austria presenting thirty years of digital research and creative works of seventy artists to more than 2500 visitors.
He is cofounder of the international Think-Tank GAIIA Gesture & Artificial Intelligence in Industry and Arts (aimove.eu/gaiia) and of the artistic collective VRAC (www.vracollective.com).
Personal website: www.jfcad.com
Dr.  Jean-François Jégo
Jean-François Jégo est maître de conférences au département Arts & Technologies de l'Image de l'Université Paris 8. Il est également artiste-chercheur dans l'équipe INREV du laboratoire Arts des Images et Art Contemporain où il crée des installations artistiques et des performances de théâtre interactives en hybridant la réalité virtuelle et de la réalité augmentée. Après des études transdisciplinaires en art contemporain, il obtient une thèse en informatique et réalité virtuelle de l'école des Mines de Paris. Ses recherches sur l'esthétique de l'interaction questionnent les perceptions humaines et la cognition incarnée (embodiment) du spectateur-acteur en environnement virtuel expressif.
Il est l'auteur d'une dizaine d'installations d'art numérique primées et co-scénographe de quatre performances scéniques numériques diffusées dans plusieurs expositions en France (Cent-Quatre, Gaité Lyrique, IRCAM Centre-Pompidou, Théâtre d'Aubervilliers, Stéréolux…) et internationales tels Ars Electronica (Autriche), Cyberfest (Russie), MOCA Taipei (Taiwan), ACM Multimedia et IEEE 3DUI (USA). Il est également co-auteur de nombreux articles et chapitres de livre en art et technologies dont Virtual Reality Headsets – A Theoretical and Pragmatic Approach paru chez CRC Press en 2017. En tant que commissaire d'exposition, il a présenté en 2016 les installations interactives d'une quarantaine d'artistes pour la conférence internationale Movement & Computing MOCO'16 en Grèce. Il a également coorganisé l'exposition internationale Ars Electronica Campus Exhibition 2015 en Autriche qui présenté trente ans de créations artistiques numériques de soixante-dix artistes à plus de 2500 visiteurs.
Il est co-fondateur du Think-Tank international GAIIA Gesture & Artificial Intelligence in Industry and Arts (aimove.eu/gaiia) et du collectif d'artistes VRAC (www.vracollective.com).
Site personnel : www.jfcad.com