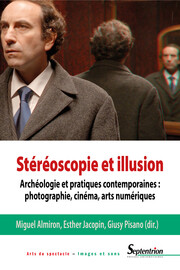 Stéréoscopie et illusion. Archéologie et pratiques contemporaines : photographie, cinéma, arts numériques
Chapter: Interaction gestuelle improvisée avec un acteur virtuel dans un théâtre d'ombres bidimensionnelles ou au sein d'un univers virtuel en relief : l'illusion d'un dialogue ?
Marie-Hélène Tramus, Chu-Yin Chen, Judith Guez, Jean-François Jego, Dimitrios Batras, Dominique Boutet, Marion Blondel, Fanny Catteau et Coralie Vincent
Le projet collaboratif CIGALE (Capture et Interaction avec des Gestes Artistiques, Langagiers et Expressifs), soutenu, par le Labex ARTS-H2H, a développé un dispositif mettant en œuvre une interaction gestuelle entre un acteur humain et un acteur virtuel (AV). Les recherches se sont déployées selon cinq directions : la capture du mouvement, l'analyse gestuelle, la génération de mouvements virtuels, l'improvisation et sa modélisation, l'interaction gestuelle et son analyse. Nous nous focaliserons dans cet article sur les deux derniers axes, ceux de l'improvisation et de l'interaction gestuelle avec un AV en nous intéressant plus particulièrement à l'installation InterACTE, une des créations en réalité virtuelle développées dans le cadre de ce projet.
Dir. Miguel Almiron, Esther Jacopin et Giusy Pisano, Presse Universitaire Septentrion, 2018, More info here
---

Virtual Reality Headsets – A Theoretical and Pragmatic Approach
Chapter: Creating digital art installations with VR headsets
Judith Guez, Jean-François Jégo
The purpose of virtual reality is to make possible a sensorimotor and cognitive activity for a user in a digitally created artificial world. Recent advances in computer technology have led to a new generation of VR devices such as VR headsets. Accordingly, virtual reality poses many new scientific challenges for researchers and professionals.
Virtual Reality allows us to get immersed in artificial worlds, and to interact in real-time in these universes. The potential of this technology is so vast, as it lets create either realistic, symbolic or imaginary worlds, that it is not surprising to notice that artists have been using it for several decades. Virtual Reality as an artistic medium allows the spectator-user to live immersive and interactive experiences, and it gives the opportunity to the artists to explore new ways of expression. In this chapter, we first describe the added value of the VR headsets in artistic creation, in regard to a historical approach and other interfaces. We then propose a creation model to produce artistic installations making use of the VR headsets' characteristics.
Dir. Philippe Fuchs, CRC Press, More info here
---

Les casques de réalité virtuelle et de jeux vidéo
Chapter: L'usage des visiocasques pour les arts numériques
Judith Guez et Jean-François Jégo
La réalité virtuelle donne les moyens d'immerger l'homme dans un monde virtuel, tout en lui donnant la possibilité d'y interagir en temps réel. Du fait qu'il est possible d'y représenter un monde virtuel réaliste, symbolique et imaginaire, la réalité virtuelle inspire de nombreux domaines, il n'est alors pas étonnant de le retrouver dans les Arts. Ce medium permet au spectateur d'y plonger pour vivre des expériences interactives particulières et il ouvre le champ aux artistes à des explorations pour la création. Dans ce chapitre, nous décrivons en première partie l'apport des visiocasques dans la création artistique d'un point de vue historique et vis-à-vis des autres dispositifs. Nous proposons dans une deuxième partie une méthodologie de création d'installations artistiques de réalité virtuelle à partir des spécificités et propriétés des visiocasques.
Dir. Philippe Fuchs, Presses des Mines, March 2016, More info here