In a black & white Paris, little creatures with paintbrush decide to brighten up the city…
Quentin Carnicelli, Charles Klipfel and I directed this short movie. Music is composed by Robert le magnifique & Olivier Mellano.
Here, the idea is to explore pseudo-active perception of the viever by adding micro movements of the camera. Playing with parallax effects allows to better understand the depth of the set and the volume of the small characters.
Short movie clip, available on DVD and on iTunes
Awards
BEST VIDEOCLIP AWARD, Festival International Benicàssim (Spain) 2010
NATIONAL SELECTION, Clermont-Ferrand International Short Film Festival (France) 2010
AUDIENCE AWARD, granted by DREAMWORKS @ e.Magicien festival (France) 2009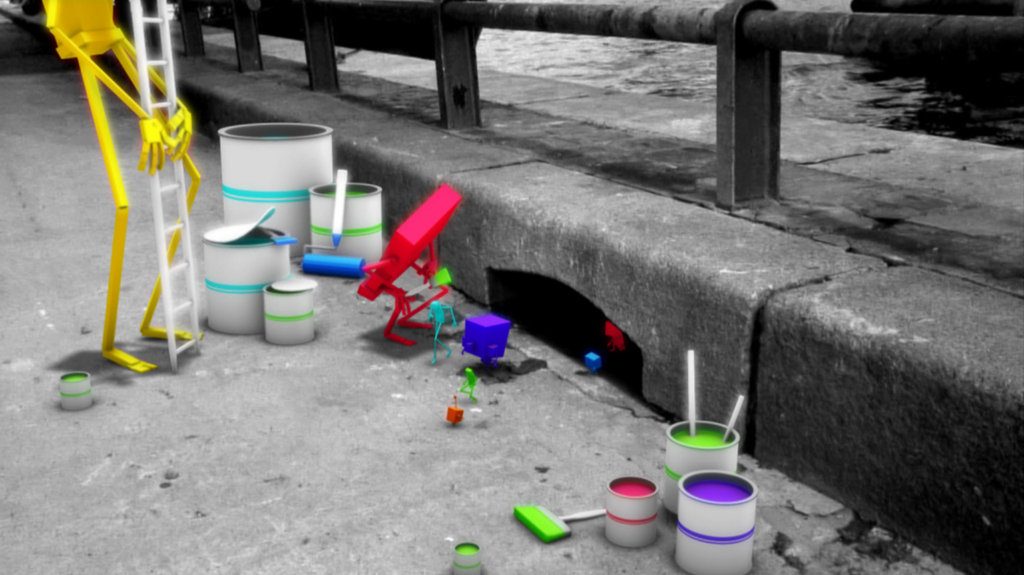 More information
Videoclip, France, 2010, 4'20, pas de dialogue, BetaNum/35mm/DVD
Réalisation : Quentin Carnicelli, Charles Klipfel, Jean-François Jégo.
Musique "Reulf" Robert Le Magnifique & Olivier Mellano.
Production : ToutCourt
Distribution Autour de Minuit. BetaNum, 35 mm et DVD.